Yesterday a new multiple baby pregnancy made the news. This one has to be the most disturbing one, yet. Please note that I am purposefully not mentioning the most recent mom by name who gave birth to eight babies and now has her own show which many people are boycotting because they believe she became pregnant with multiple babies to get her own show, as do I and am disgusted. Mo
ving on....

I read four articles (see below) about the Tunisian teacher, pregnant with twelve babies, who is in her 30's. No that's not a typo – she has 12 babies growing inside of her. Six are boys and six are girls. None of the articles knew exactly what type of artificial means she used to become pregnant. She had suffered two miscarriages in the last two years which is why they chose to use medical intervention.

"I don't want to dampen her enthusiasm, but the chances are she will deliver at twenty weeks. I wouldn't even give her a one in 100 chance of even one surviving. It's frightening," Peter Bowen-Simpkins, a fellow at the
Royal Colleg
e of Obstetricians and Gynecologists told the Daily mail.

According to the

guardian.co.uk

, the record for multiples was set in 1996. A Greek Cypriot woman was pregnant at age 23 with eleven babies. Doctors aborted nine of the babies so that two of them would have a chance to survive.

In another article, last May Nuala Conway, from Dunamore in Co Tyrone gave birth to sextuplets when she was 26. She delivered four girls and two boys. One of the girls died.

The Sun posted that in 1971, a mother in Australia became pregnant with nine babies. Every single one died.

And yet another mom, this time in

Britain

was pregnant with eight babies. Doctors advised her to abort some of the babies but she refused. All eight babies died when she went into labor at twenty two weeks.

I understand a woman's incredibly strong desire to feel her own baby inside of her and experience birth, but at what cost to the babies? When do we draw the line?

There seems to be a competition to see what doctor can successfully implant and deliver the most babies. Kate Gosselin has shown the world how difficult it is to raise eight children, six being the same age. As a mom of four, I can't imagine raising multiple children of the same age.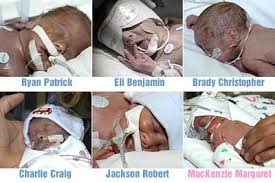 I was adopted at birth and brought a lot of joy to my parents (most of the time). Once they got me home, when I was two days old, they never thought of me as belonging to anyone else. I was theirs just like my sisters were. One of my sister's and her ex-husband weren't able to have children. They adopted my niece from China. GK is a very happy, healthy, well-loved little girl.

I've heard that some moms who are having difficulty getting pregnant get angry when people suggest adoption. I don't understand why it's such a dirty word to people. Thousands of babies and children need loving homes. People who can't have kids could accept them into their lives and love them as their own. I understand they want to have a biological child. But sometimes other options can be explored – other than risking the health of the mother and the tiny, helpless unborn babies.




I know that many people have strong opinions on these things and I understand everyone is entitled to their opinion. As a happy adoptee and mother of four children and one Angel, I just feel that adoption should be considered more than artificial insemination of multiple babies. I know I've carried my babies so I don't know what it's like to not be able to get pregnant. But I ALSO know what it's like to be raised by a wonderful family who treated me like their own. Not all adoptees are as lucky as me, but I believe the majority are. When Hubby and I decided to have baby number four, we had a hard time. It took over two years. Adoption was never far from my mind during my struggles.



Justine Simmons gave birth to her daughter, Victoria Anne on September 26, 2006. Victoria was premature and passed away two hours after she was born. Longing to have a little girl to love, she and her husband Rev Run decided to adopt. I love Justine's outlook on her adopted baby girl, Miley. In an article on bnet Justine said, "There are other women out there who can't have babies and they keep trying. They get so caught up with 'I gotta have my own,'" she states. "I forget sometimes that Miley's adopted. If people knew that they would get that feeling from adoption, I think more [couples] would adopt and not go through the heartache of trying and miscarrying."



One day while doing some research on adoption of older children for a friend, I came across pictures of children available for adoption on

adoption.com

. I scrolled through every picture and wanted so badly to bring every one of them into my home to love as my own. There are currently 751 children in need of a loving family on adoption.com. My hope is that more people, childless or not, make adoption an option.

Open your home.

Open your heart.


http://www.guardian.co.uk/world/2009/aug/18/12-babies-tunisian-pregnant
http://www.parentdish.com/2009/08/18/woman-pregnant-with-12-babies-will-any-survive/
http://www.thesun.co.uk/sol/homepage/news/2592012/Woman-due-to-have-12-babies.html
http://www.foxnews.com/story/0,2933,540023,00.html
http://findarticles.com/p/articles/mi_m1355/is_3_114/ai_n27970746/